Welcome to the Willy Naessens Group
Is the Willy Naessens Group a construction or a food specialist? What connects the two? Are they really complementary? And what about Willy Naessens himself? Is he still in the office every day?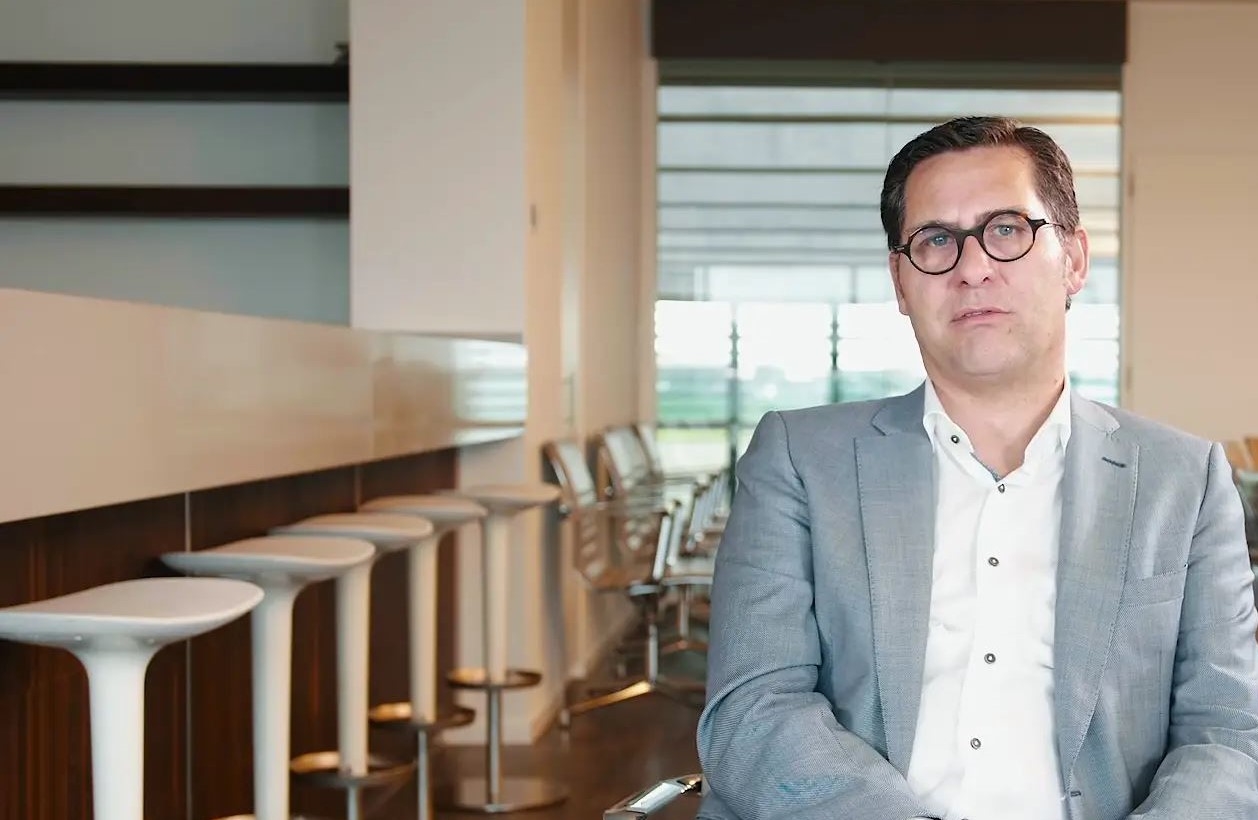 Jobs
Interested in our job openings?
At Willy Naessens Group we are always looking for motivated people to strengthen our team. People who want to roll up their sleeves and work with their colleagues to build something.
Discover them here
"There's a fantastic ethos in this company, shared by the employees"
Miguel
cost accountant/ sales
It's Willy Naessens' birthday and everyone can enjoy it!
Willy's birthday is on Valentine's Day and according to annual tradition ALL employees of the Willy Naessens Group receive a gift!
Willy Naessens Loves You
The Willy Naessens group launches its Willy Naessens loves you campaign.

Project in the spotlight: Gheys
Opening of the Hippodroom Waregem stable complex
Wednesday 1 May 2019 saw the official opening of the Hippodroom Waregem stable complex built by Willy Naessens Agro by Snoeck. Willy Naessens started with the initial earthworks around six months earlier.
84 stalls were built on a total area of ​​1050 m². The building has a large covered central area. This means that the horses are protected at all times from sun and rain.
There are more than 2 km of sewer pipes in the ground. The WADI (buffer and infiltration facility) has a water storage capacity of more than 450,000 l. A method of harvesting rainwater that is being increasingly used.
At the official opening on 1 May 2019, we had the honour to welcome the Deputy Prime Minister of the Flemish Government, Hilde Crevits, together with the members of Waregem city council.
Another great achievement of Willy Naessens Agro by Snoeck.
Project in the spotlight: Telim – Hasselt
You can't miss it. Willy Naessens Industriebouw Tessenderlo has built an impressive retail complex on the Hasselt ring road for project developer QCI (Tans Family).
The building, with a total surface area of ​​13,000 m² and a total height of approx. 25 meters, provides a ground-level car park, 2 floors with stores operated by, among others, Albert Heijn, Toychamp, Jysk and Action, as well as an indoor playground with a large mezzanine on the third floor.
The design by HVC architects has eye-catching wooden cladding. In between, there are large windows and stair towers elegantly concealed behind expanded metal panels.
Willy Naessens Industriebouw gained the confidence of the client to deliver the building under a turnkey contract in an absolute record time of just 8 months. The structural work was not the only challenge, coordinating all the technologies, interior finishing, façade cladding and external works, combined with the fitting out of the shops by the retailers themselves, was also quite a feat.
Thanks to smooth communication and the motivated team of Willy Naessens Industriebouw Tessenderlo, this site also turned into a success!
Willy Naessens Industriebouw goes international
After branches in Belgium (home market), the Netherlands, France and operations in Denmark and Luxembourg, Willy Naessens Industrial Buildings is now focusing on Eastern Europe, namely Romania.
The establishment of Willy Naessens Industrial Buildings Romania began at the end of 2018. It will develop its main activity as a main contractor, supported by its own production of pre-stressed concrete beams, reinforced columns and beams, as well as wall elements.
Both activities are located in the Bucharest area, about 35 km along the A1 motorway. "The launch in Romania is a strategic choice. Its excellent connections make the location ideally suited to our operations. "Once again, the principle of vertical integration will be a huge asset", says Dirk Deroose, CEO of the Willy Naessens Group.
Willy Naessens Industriebouw from Belgium and Wincon SRL (www.wincon.ro), the Romanian partner, who has been active in general contracting and industrial building for several years, are setting up a joint venture under the name of Willy Naessens Industrial Buildings Romania.
Construction of the new production facility is scheduled to start in May 2019 and expected to be operational before the end of 2019. It will cover a total area of 6,000 m².
In the meantime, the general contracting activity will start in April 2019, supported by the two highly experienced shareholders. The organizational structures are ready and can already welcome new colleagues to Willy Naessens Industrial Buildings Romania